In this new project we are publishing a Symbaloo page with our favorite links for SpongeBob fans.




LANGUAGE WORK
1. SpongeBob lives in Bikini Bottom. Let's learn with ...
a)
the vocabulary of the parts of a town at anglomancy
b)
Inside and out game
.
c)
I'm Spatz, the town planner
.
d)
City creator
(citycreator.com)
e)
Places in a town or city
2. The town is under the sea. So we can learn about Sealife
a)
Memory game Sea animals
b) Signs at the beach -
Matching exercise
: "Choose the correct word for each picture." (beach.prace.vic.edu.au)
c)
Treasure Island
(maze) - interactive Find the treasure. (groovetoenglish.com)
3. Prepositions : Bob lives in a pineapple under the sea.
We are going to revise a)
prepositions of place
b)
The billionaire game
c)
Tidy the room
4. Types of houses: Sandy lives in a bubble glass , Bob in a pineapple and Patrick under a rock.
a)
Pictures and words
b)
Simple machines game
c)
Hide and Seek
- with an interactive story
d)
Hoxmistery
.
5. At a Restaurant: Bob works at the Krusty Krab
a)
ESL Fill in the Blanks - Restaurant - Vocabulary
- interactive (drewseslfluencylessons.com)
b) Quiz
c)
At a Restaurant
- Scrambled Sentence Exercise (eslpartyland.com)
d)
Ordering in a Restaurant
- Vocabulary in Conversation (englishpage.com)
e)
Ordering in a Restaurant
- Vocabulary Follow-Up (englishpage.com)
f)
At a Restaurant
- "Use the boxes on the left to write your choices." (a4esl.org)




LISTENING PRACTICE
6. Video of the song. listen and read
READING AND LISTENING COMPREHENSION PRACTICE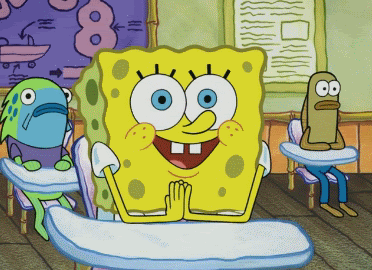 8. Watch the video
and do the quiz
9. What is SpongeBob doing?
Answer the questions
10.
Write the text about SpongBob facts
SYMBALOO: Create a Symbaloo.
Start the tour and learn how it works. Then, you can start designing it
Here' s a
mini-guide for googling
and use it to find interesting links about SpongeBob in English.
When you finish we'll share your Symbaloos in our blog and Facebook.
... You can enjoy playing SpongeBob Games in English!!!